Ship Repair and Structural Steel Work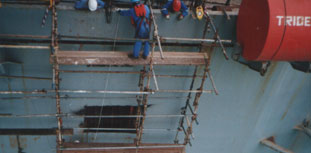 One of the biggest reasons why our business is in "shipshape" is because the marine industry keeps raising our standards. Our management systems are geared to meet the tight schedules, stringent quality requirements and uncompromising safe practices that are the norm in marine steel work. Efficient production controls, a highly-dedicated workforce, a supportive logistics team and adequate management support – these are the key contributing factors to our success.
Headed by a manager with over 20 years of hands-on experience in the industry, we have a dependable, mid-sized team of skilled steel fabricators, class-certified 6G welders (electric arc and CO2) and experienced supervisors. With an in-house covered fabrication facility of 1,250m2 and an additional 5,000m2 of open yard in Hamriya Free Zone, we are equipped to meet your needs, irrespective of the size of work.
Ship Repair and New Construction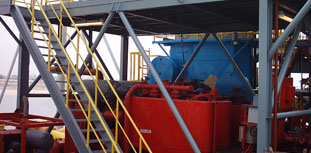 We undertake fabrication, erection, repairs and new construction of structural steel, deck miscellaneous, ducting and piping. With access to an inner harbor with 5-7m draft, in addition to a deep water port at Hamriya Free Zone, we are also looking to begin ship-building activities in the immediate future.
On Rig "Trident 19" for M/s. Schlumberger Drilling Co. which was operating on an offshore well located close to Kharg Island in Iran, we have worked in all the preload tanks. Work consisted replacing internal stiffeners, internal piping, the bulkhead plates and the cross members supporting the frames. We also replaced some portions of the side hull using suspended scaffolding on the outside of the rig.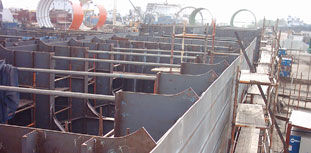 One of the first major ship repair and maintenance jobs performed by us was on a 35,500 tons tanker for M/s. Titan Cruise Lines under Bureau Veritas Class. In this tanker, we replaced about 750 tons of steel throughout the entire length in bulkheads, side shell, deck and various other locations. Our work also included replacing about 500 meters of cargo pipelines in tanks in the pump room and overhauling about 30 nos. valves. Other vessels on which we have carried out noteworthy works for M/s. Drydocks World – Dubai include Rig "PRIDE VENEZEULA", SAIPEM rig "PERRO NEGRO", TransOcean rigs "GSF MAIN PASS IV" and "GSF HIGH ISLAND IX", besides various LNG and LPG carriers. The works have mainly consisted of various repair and renewal jobs on deck and in tanks.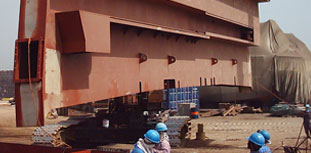 Among various conversion jobs that we have completed are those for M/s. Drydocks World – Dubai including the vessels "MYSTRAS", "XIKOMBA", "KNOCK ADOON" and "NAVION BERGEN". Our work on "MYSTRAS" included complete refurbishment of accommodation, erection of platforms connecting accommodation to the funnel deck, and installation of railings. The 75MT of work carried out "NAVION GUTENBURGH" shall remain memorable because of the variety of jobs undertaken. The ability to work from scratch, flawlessly executing complex requirements, even when confronted with severe time limitations, has made us one of the preferred contractors for such conversion works. We are proud to have been the major contractor for the "BLACKFORD DOLPHIN" project and "HAM 602"carried out in M/s Arab Heavy Industries in the year 2006. In BLACKFORD DOLPHIN project we undertook the fabrication of new blister tanks weighing 250MT, and the fabrication and welding of 70MT new riser columns for M/s Keppel Fels. The fabrication, erection and welding of new partition bulkheads for the stone dumper "HAM 602" owned by Van Oord was another major milestone. Other notable structural repair and erection works there, include the 35MT repairs on NPCC jack-up Barge "SEP 350", 50MT repairs on "THEBAUD SEA" and Jack-up leg repairs on "EMIRATES PROVIDER". These jobs underwent rigorous inspection, including full radiographic testing, successfully. These jobs have helped us conclusively prove our capability and set new internal benchmarks in quality and efficiency.
Other Steel Fabrication and Erection Works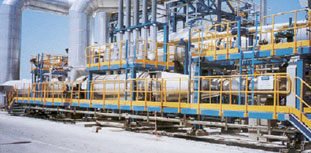 We have used our expertise in the marine sector, to venture into the industrial and commercial sectors as well. By offering the same quality required by rigorous marine standards at a cost-competitive manner, we also perform steel fabrication, welding and erection works both in-house or at site. Our capability ranges from platforms, ladders, railings, walk-ways and light-posts to small tanks, skids and complicated structures. Among our clients are M/s. ALSTOM Power, M/s. Dubai Aluminium Co. (DUBAL), M/s. Innovative Technologies, M/s. Environment Technologies, M/s TECON Ltd., M/s. Juma Al Majid Est. and M/s. Sharjah Muncipality. Our resources, including a well-equipped workshop, qualified and skilled manpower, and a professional attitude have given us a growing market presence in this line, which involves high degrees of accuracy and efficiency. The consistency of our clients in choosing our services stands testimony to the reliability of our team. Currently, we perform approximately 40MT of steel works per month on site, which is set to grow as we expand manpower and facilities.