Insulation and Cladding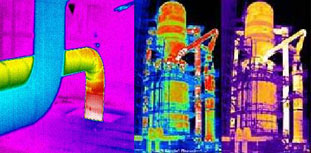 One of our major areas of work is that of Insulation (also called Lagging) and Cladding. Our services cover all types of insulation, i.e., Thermal Insulation (both Hot Insulation and Cold Insulation), Personnel Protection (both Burn Protection and Freeze Protection), Cryogenic Insulation,Acoustic Insulation and Fire Protection Insulation.
Depending on the specific application requirements, we install a wide variety of insulation materials such as Stone wool (popularly known as rock wool), Glass fiber wool, Cellular glass, Ceramic fiber wool, Calcium silicate, Polyurethane foam, Polyisocyanurate foam, Flexible elastomeric (Rubber) foam, Polyolefin, Polystyrene, Phenolic foam, Microporous insulation, ceramic insulating coatings etc. These materials are available in many forms such as preformed pipe-sections, felts or blankets, boards or slabs, and with many types of reinforcements or facings. We are also one of the few regional insulation contractors with expertise in in-situ sprayed or injected polyurethane foam.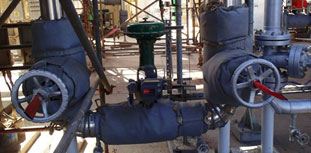 For additional mechanical and weather protection, we provide cladding on insulated surfaces, using aluminum, galvanized steel or stainless steel sheets. We also provide alternative jacketing solutions including acoustic damping materials, GRP coatings (for chemical/corrosion resistance), reinforced vapor barrier (for advanced atmospheric protection), burn protection guards etc. Certain items such as mufflers, turbo-chargers, turbines, process valves, pumps, expansion bellows etc., require frequent access, for which conventional insulation systems may be impractical. For such applications, we offer our clients a custom-fabricated solution that is both removable and reusable – insulation pillows or insulation pads or insulation jackets. These can be made using fabrics with a variety of properties: withstanding temperatures up to 1000°C, protecting against water or resisting chemicals.
Commercial Sector
In the commercial MEP industry we have undertaken insulation and cladding works for innumerable projects including residential developments (including The Gardens, The Lakes, Dubai Marina), shopping malls (Deira City Center, Dubai Festival City, Ibn Battuta Shopping Mall), hotels, iconic skyscrapers, schools, universities, hospitals, exhibition and convention halls, office complexes, airports and even palaces (Za'abeel Palace). Most prestigious amongst these is the cladding works at the seven-star ultra-deluxe Emirates Conference Palace and Hotel in Abu Dhabi. Our clients in this sector include M/s EFECO (Arabtec), M/s Drake & Scull, M/s Emirates Trading Agency, M/s Transgulf, M/s Thermo, M/s Overseas AST Co., M/sKhansaheb, M/s B K Gulf etc.
Marine Sector
Our proficiency in tackling a vast array of critical marine insulation requirements within tight schedules, have found us an ever-growing client base in the marine sector. Noteworthy among such projects are the cryogenic insulation repairs on cargo tanks and piping for LNG and LPG carriers, and also the cold storage repairs on reefers and fishing trawlers. Besides these we have also completed several thermal insulation and personnel protection works on boilers, exhaust systems, radiator water systems, process lines etc. of various VLCCs, conversion vessels, barges and rigs. We also stock and apply A30 fire-rated, A60 fire-rated or acoustic insulation for bulkheads and decks meeting all necessary class approvals. While majority of the works have been carried out at the many top-level drydocking and port facilities here in the UAE, we can also perform the work at anchorage or while sailing.
Industrial and Petrochemical Sectors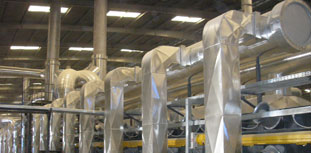 Insulation has long been a necessity in most industries, especially in petrochemical plants, for reducing energy costs, improving process efficiency or for protection of personnel from fire, sound, frost and burns. The major projects that we have completed include refineries, oil and gas storage terminals, power and desalination plants, cement plants, lubricant manufacturing plants, sewage treatment plants, metals processing plants, food processing and manufacturing units, chemical manufacturing plants etc. Jobs in these sectors constantly involve sizable manpower, advanced materials, high-risk environments and complex installation systems – challenges that we have repeatedly proven our ability to overcome. We are especially proud to have been supporting Dubai Aluminium Company Ltd. (DUBAL) on a maintenance contract basis for over ten years without any Lost-Time Incidents or major non-conformances.
District Cooling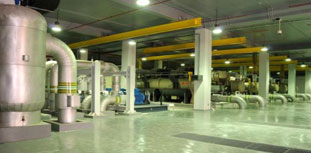 With the world shifting towards more energy efficient processes, the Middle East has been spearheading the wide-scale implementation of District Cooling Systems for its many mega-projects. We are proud to have been preferred partners in many such pioneering projects, involving distribution pipe networks and chilled water plants, including Green Community, DIFC Precinct, Dubai Health Care City, Palm Jumeirah – Crescent, Business Bay, Al Raha Gardens, Dubai Metro, Dubai World Central Airport etc. We were also one of the first regional companies to carry out insulation of Thermal Energy Storage tanks, such as those for Dubai Motor City, Zayed Military City, Worker's Village Abu Dhabi etc.
Today, our insulation and cladding team are capable of competing with international companies in know-how, technology and skill of technicians. Our willingness to take up challenging projects anywhere in the Middle East, irrespective of the project volume and without compromises on quality and efficiency, has stood us in good stead with all our clients. The large variety of reputed names, from the marine, industrial and MEP sectors, in our client list reflect our expertise and credibility.