Guniting and Shotcreting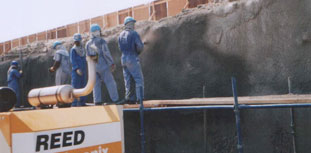 Shotcrete or Gunite is concrete (or sometimes mortar) conveyed through a hose and pneumatically projected at high velocity onto a surface, as a construction technique. The material undergoes placement and compaction at the same time due to the force with which it is projected from the nozzle. It can be impacted onto any type or shape of surface, including vertical or overhead areas. Over the years, the construction industry has informally adopted the term "shotcrete" to identify wet-mix and "gunite" to indentify dry-mix.
Shotcrete or Gunite is extremely strong, dense and highly resistant to weathering and many forms of chemical attack. It is heat resistant to a high degree and can be made more so by substituting refractory aggregates for part or all of the sand. Resistance to abrasion is extremely high. The bond to other Shotcrete, well cleaned masonry or other materials is equal to or greater than the shearing strength of the material to which it is applied. Without doubt sprayed concrete provides designers with a cost effective and adaptable method to create and repair concrete structures.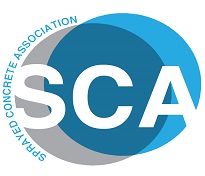 As Gunite or Shotcrete is a specialty product, consistency of the sprayed concrete is highly dependant on the skill and experience of the applicators. This is where PHOENIX stands out from the competition and has consistently been among the top subcontractors for Gunite / Shotcrete jobs within the UAE. With technically sound engineers and nozzle men of over 20years experience within the Middle East, our company promises reliable and professional work. We possess two dry gunite machines (UK make), two wet shotcrete machines (UK and US make) and two compressors of suitable capacity, which allow us to serve our clients without any hiccups. To add credibility to our quality of work in this field, we are also registered an Overseas Associate and Member of Sprayed Concrete Association, UK. In the past six years we have pumped at least 60,000 m3 of material in both its dry and wet forms. With more than AED 7 Million worth of projects completed within the Emirates in the last 3 years alone, you can be assured of our credentials. PHOENIX has been a chosen partner for challenging projects, having performed sprayed concrete installation to a swimming pool on the 65th floor of a Dubai skyscraper, and also special gunite repairs to the underside of a bridge on the famed Sit BaniYas Island.
Our reputed clientele include M/s. Bilt Middle East, M/s. Al Basti&Muktha Group, M/s. Associated Construction & Investment Co. L.L.C. (ASCON), M/s Al RostamaniPegel, M/s Al Reyami Pools, M/s Amusement Whitewater, M/s Structural Preservation Middle East, M/s Stromek Foundationsetc. The following wide varieties of applications in which our crew have installed sprayed concrete will demonstratethe unique adaptability of sprayedconcrete and also our expertise:
New Construction
Domes
Retaining walls
Piled wall facings
Diaphragm walls
Tunnel linings
Protective Coatings
Fire protection to structural steelwork
Refractory linings
Piled wall facings
Impact protection to steel equipment supports
Strengthening and Repair
Concrete damaged by reinforcement corrosion
Housing
Bridges
Jetties and wharves
Silo structures
Free Formed Structures
Landscaping
Sculptures and Water features
Water parks
Zoological structures and enclosures
Water Retaining Structures
Sea walls
Water Reservoirs and Aqueducts
Swimming pools