Engine Overhaul and Maintenance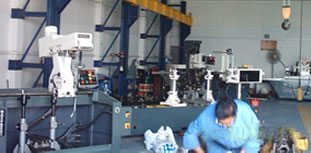 Phoenix has recently entered into a joint venture with Central Engineers, Kochi –India and MAXPRECI Machines Pvt. Ltd, Bangalore –India to enter the field of engine repair and maintenance. The spacious workshop and office complex was recently inaugurated in February 2006. Judging the feedback from our grand opening, as well as our good showing at the STEELFAB 2006 Exhibition in Sharjah, we look forward to good start.
While we are mainly concentrating on the huge Ship maintenance market, we also undertake works on commercial engines. With a team of skilled machinists, welders, mechanic and other technicians, we perform Crank Shaft Grinding, Cylinder Boring, Valve Seat Cutting, Line Boring, Housing Pilot Bearing Seat Reconditioning and Full Engine & Half-Engine Setting. Our workshop is already equipped with Vertical Cylinder Fine Boring Machine, Vertical Cylinder Honing machine, Connecting Rod Boring Machine, Line Boring Machine, Vertical Hydraulic Surface Grinding Machine, Crankshaft Grinding Machine, Crankshaft Straightening Press, heavy duty lathe etc. By concentrating on providing precision work with a quick response time, we have been already successful in establishing several satisfied clients including M/s Arab Heavy Industries and various companies located within Jadaf Shipyard. One of our short-term goals is to assemble a portable Engine Rebuilding machine set for carrying out onboard works, both onshore and offshore.